The release of the National Luna LEGACY Fridge Freezer range in Australia in late 2020 certainly created hype. The popular question being asked over social media is 'What is the difference between the Legacy and the original National Luna Fridge Freezers?'.
To answer this question effectively, the main difference is reduced power consumption through the brand new National Luna Approved Compressor.
The new range (single compartment) has the ability to be used as a fridge or freezer with the ability to set the thermostats to operate between +20°C and -30°C. Twin compartment fridge freezers use a combination of 60mm and 42mm insulation as well as dual control technology, offering a larger fridge capacity by reducing insulation in one of the compartments (usually used as the fridge).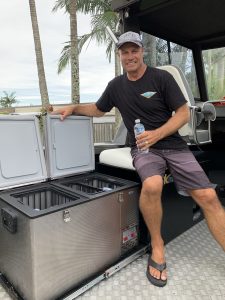 Andrew 'ET' Ettingshausen has just had a brand new National Luna 72L Legacy Fridge Freezer fitted to his Surtees 650 Game Fishing Boat.
Located under a bench seat in a custom fabricated slide out compartment, the fridge freezer stays protected when not in use and leaves required floor space.
TOUGHER, SMARTER CONSTRUCTION
Made with a stainless steel exterior and aluminium interior, National Luna fridges are metal inside and out. The durability benefits are obvious when compared to plastic fridges. It also gives National Luna fridges better cooling capabilities.
Metal cabinets and inner liners plus a unique manufacturing process allow latest generation foam to be injected under high pressure giving denser, more effective insulation, thereby maximising interior space and reducing overall dimensions. While plastic fridges use a separate 'refrigeration plate', National Luna's inner aluminium metal construction in conjunction with copper cooling piping, means a much more efficient cooling plate area. This keeps temperatures stable across the whole of the interior, cuts running time, and reduces 'temperature pull down' time when new contents are added. With a bigger cooling area and more effective high-density insulation, National Luna fridges cool faster, stay colder longer and use less power!
ADVANCED COMPRESSOR TECHNOLOGY
All models are fitted with the new advanced National Luna designed Compressor with an AC/DC electronic power supply (with automatic switching as standard). The fridge/freezer will operate from 9.6 volts to 31.5 volts DC as well as AC voltage ranging from 100 to 240 volts.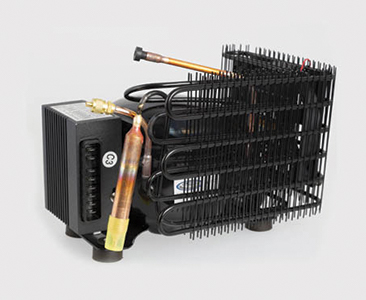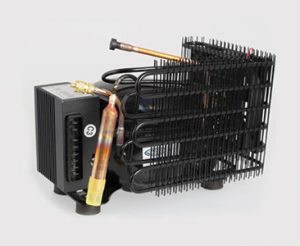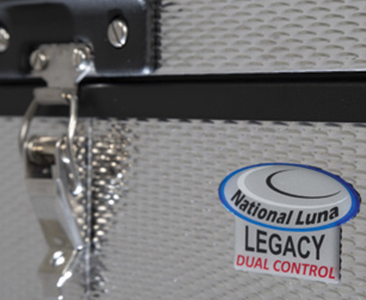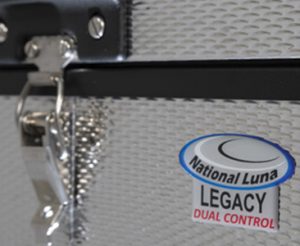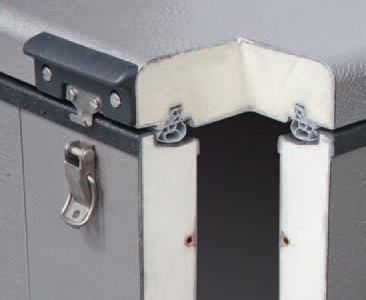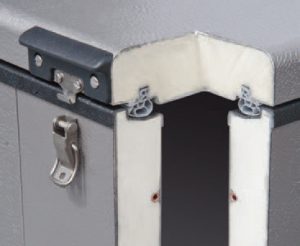 MAXIMUM COOLING, MAXIMUM CONTROL
Smarter construction is one element of National Luna fridges' superior performance – smarter compressor control is the other.
National Luna designed compressors are used to guarantee field servicing and parts availability, taking performance and reliability to new heights with more intelligent, programmable electronic control. The compressor will automatically operate in the high speed 'TURBO' mode until the temperature set point is reached. Thereafter it will operate in the energy efficient idle mode, ensuring optimal power consumption.
Different battery types can be discharged to various levels. To select the depth of discharge of the battery (ie. how low you intend to allow the battery to flatten), all National Luna fridges incorporate Low / Medium / High battery cut-out protection circuitry.
Also, when it comes to operating your fridge/freezer, National Luna puts you in charge like no other manufacturer. Equipped with an easy-to-read digital thermostat, the programmable intelligent controller allows you to set the exact temperature you want, shows you the current compartment temperature and gives you the option of manually selecting the high-speed ' TURBO' mode for even faster cooling.
Multi-featured, easy to use and reliable, National Luna's new Intelligent Compressor Control is the smart choice.

BETTER PERFORMANCE, LESS POWER
With high-efficiency compressors, intelligent controllers, a large aluminium cooling plate area, and more effective insulation, National Luna fridges cool faster, stay colder for longer and draw much less power.
Most portable fridge manufacturers use their own statistics and performance figures, so it can be difficult to make comparisons. National Luna makes one simple guarantee – our freezers will maintain genuine deep-freeze capability.
Every fridge in the National Luna LEGACY range will chill down to an impressive -18°C even when outside temperatures hit a blistering 43°C. (That's over 60°C below ambient temperature!) In the real world, total 'BATTERY DRAIN' is about how much average power a fridge will consume over a period of time – not just how many 'amps' it draws running in a laboratory testing environment.
Australian conditions proved time and time again that National Luna fridges use less power and stay colder for longer, without excessively draining the battery. Not everyone wants to deep freeze in the desert, but with National Luna you know the fridge can handle extremes and maintain stable temperatures throughout the fridge compartment… and that's important because food lasts longer.
When warm food and drinks (extra load) are added, the intelligent controller will automatically speed up the compressor to 'pull down' the load as fast as possible, and then revert back to the energy saving 'idle' mode.

Where others struggle, National Luna fridges keep on doing the job… without running the battery flat!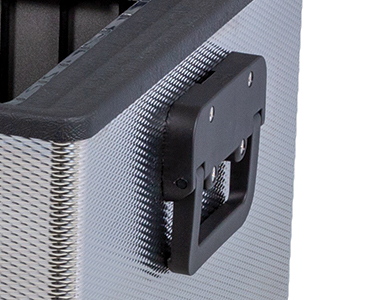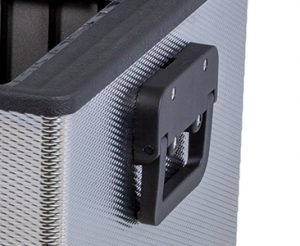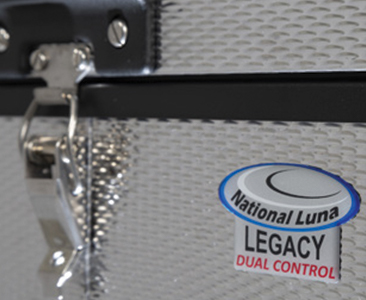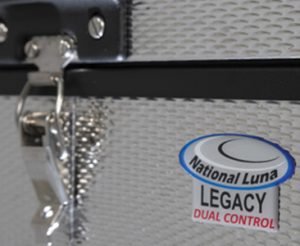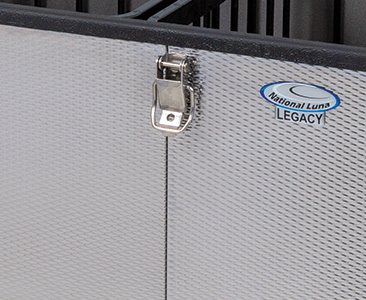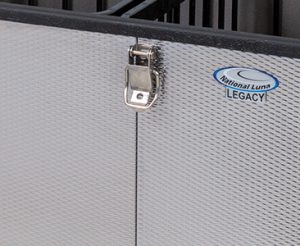 .
.
.
.
.
.
.
BUILT TO WORK HARDER & LONGER
With outer Stainless Steel metal construction, National Luna fridges are built to survive in a harsh world, with the emphasis on durability and longevity. All National Luna fridges feature rounded impact resistant corner mouldings to help prevent damage to the fridge or the vehicle, sturdy lockable metal latches, and heavy duty carry handles that double as tie-down points that fold flat to maximise load space. Made of hard-wearing, rust-resistant Stainless Steel (Grade 430), National Luna fridges are easy to clean and they're tough enough to withstand commercial use and give years of useful service.
QUALITY & PERFORMANCE GUARANTEED
While other manufacturers rely on random testing, every single National Luna fridge undergoes testing in a 43°C climate controlled chamber to ensure performance criteria are met. Quality is guaranteed from day one, and with tougher materials, advanced manufacturing techniques, and superior components, all National Luna fridges carry a comprehensive 3 year warranty on the complete unit.
National Luna fridges aren't just sold by any retailer either – only dealers with a commitment to understanding customer needs and ensuring the right installation are appointed as National Luna outlets – so quality service is assured.
With a worldwide network of service agents and parts back-up, you can be sure you'll enjoy years of satisfaction when you choose National Luna.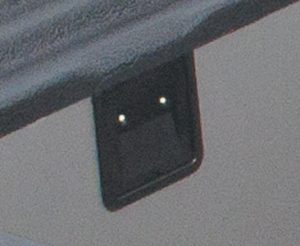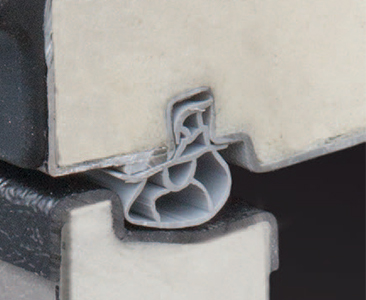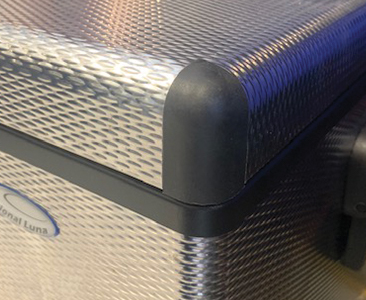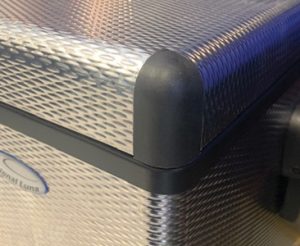 LARGE CAPACITY, EXTREMELY VERSATILE
The National Luna LEGACY range starts with a 40L unit that's ideal as a short-haul refrigerator or dedicated freezer, and extends to a massive 125L unit developed for commercial catering, mining companies, major expeditions and tour operators.
For the ultimate in versatility, National Luna offers its unique Dual Control units with two separate, individually controlled fridge/freezer compartments, giving you 4 options of freezer/freezer, fridge/fridge, freezer/fridge or fridge/freezer – it's your choice!
UNIVERSAL LID CONFIGURATION (NLR50SL & NLR52SL Only)
If opening the fridge from the front is not practical for you, simply change the lid hinges and allow a side opening configuration.